Having evaluated four different prototypes on its experimental route between The Square and Westbourne, County Gates, which opened on 13 May 1933, the undertaking selected the 3-axle Sunbeam MS2 trolleybus but with separate rear entrance and front exit as their standard vehicle for the conversion of the tramways to trolleybus operation.
Between June 1934 and March 1936 Bournemouth took delivery of some 103 such vehicles with H31/25D bodywork, built mainly by Park Royal, to virtually identical design, making up the largest trolleybus fleet of one manufacture to be purchased by a British municipality.
| | | |
| --- | --- | --- |
| FLEET NO | BODYWORK | DELIVERED |
| 72 - 77 | Park Royal Vehicles Ltd | June 1934 |
| 78 - 83 | English Electric Co. Ltd. (Park Royal design) | July 1934 |
| 84 - 89 | Park Royal Vehicles Ltd | October 1934 |
| 90 - 173 | Park Royal Coachworks Ltd | February 1935 - March 1936 |
Exceptionally the foremost upper deck side windows above the driver's cab on 84-89 had a small non-opening triangular pane followed by a half-drop window using a two-thirds size pane of glass. The space taken by these two panes on 84-89 was exactly the same size as the single window space on all other deliveries.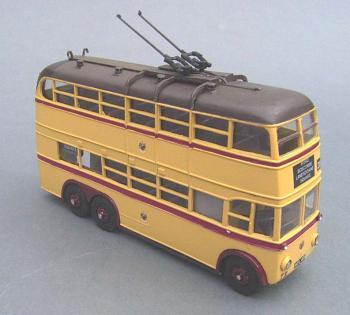 During the lifetime of the fleet, bodywork changes included the panelling-over of the diffused glass lower-deck offside window behind the front staircase, replacement of the glass louvres above front and side saloon windows with metal rainshields and replacement of the half-drop upper-deck front windows on 78-173 with fixed glazing. This was a gradual process, and individual vehicles retained the glass louvres above the side windows and half-drop front windows until the late 1950s.
Wartime Loans
Traditional holidaymaking came to an end with the outbreak of war leaving Bournemouth with vehicles surplus to requirements. Between September 1940 and December 1948 a total of 30 Sunbeam MS2 trolleybuses were loaned to more hard-pressed operators. The loans involved all the 1934 vehicles, except 88, and 13 later deliveries. Bournemouth's loaned trolleybuses operated at various times in Llanelly, London, Newcastle upon Tyne, South Shields, Walsall and Wolverhampton. It is important to stress that individual vehicles were transferred between these "foreign" operators and ran on up to four different systems during their time away.
Two Bournemouth Sunbeam MS2s are preserved: recently restored 99 at the Sandtoft Transport Centre near Doncaster, and 202 in open-top condition at the East Anglia Transport Museum near Lowestoft.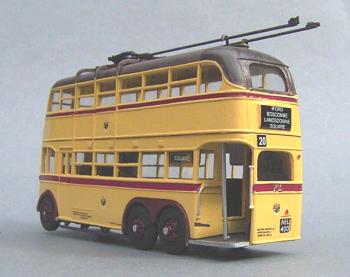 For further details see "Bournemouth Trolleybuses" by David R.H. Bowler, published by Trolleybooks, PO Box 2437, Reading, Berkshire RG2 8YQ